Martinsville High School
Class Of 1989
In Memory
Barbara Awbrey (Todd)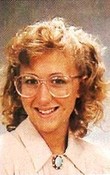 Barbara E. Awbrey Todd, 31, Carmel, died June 15, 2002. She had been a registered nurse for Indiana University Hospital. She was a member of the Indianapolis Athletic Club and Oncology Nursing Society. Mrs. Todd was a graduate of Ball State University. Burial: Hamilton Memorial Park, Westfield. Memorial contributions may be made to the Morgan County Humane Society, Martinsville the IU Foundation for Bone Marrow Transplantation or the Todd Children Education Fund, in care of the mortuary. Survivors: husband Douglas J Todd sons Andrew J, Alexander Matthew Todd, parents David L. and Mary Martin Snyder, brothers Don C. Awbrey III, Timothy D. Snyder, sister Paige Ann Castellow.
FROM THE INDIANAPOLIS STAR:
Solo dads - Men raising their children alone find the task tough, but worth it.
Doug Todd
has two children, Alexander, 2, and Andrew, 4, but he doesn't want a big deal made of Father's Day. For him this is a sad time, a reminder of his wife's sudden death two years ago this week.
The Todds, of Carmel, will treat today like any other Sunday. They'll go to church, maybe go for a walk, play in a park, hang out.
A few years ago, a typical Sunday might have found
Todd
on the golf course. But in his new role as single father,
Todd
cut out golf. He even cut out watching sports on television. He is 36 and a senior tax manager at the accounting firm Ernst & Young. Earlier, while at Arthur Andersen, he'd had aspirations of making partner, an arduous task requiring long hours. After his wife died, he cut his workweek to four days.
As single dads with primary responsibility for the care of their children,
Todd is
in a minority. But it's a growing minority. One in six single parents in the United States is male, according to the Census Bureau, up from one in 10 in 1970. Back then there were 393,000 single custodial dads. Today there are 2 million.
Single dads have never been more than a small fraction of the overall father pool, today estimated at 66 million. But their influence on our culture is significant.
"I always thought family was extremely important to me," says
Todd
. "But I truly didn't understand that until my wife passed away. My love, my appreciation for my children seems to be much greater. I hope no one has to go through this, but as a result, you'd probably live your life differently. And you might live it better. I'm a better dad now than before -- much more in tune with the kids."
Todd has a nanny for when he's at work. His parents are nearby, as are his in-laws, and they're a big help. Mostly, though, it's just him and his boys. "We go to parks,"
Todd
says. "One we go to is West Park, in Carmel. And we like Cool Creek Park in Westfield. We play on the equipment, walk the trails."
A highlight of
Todd
's week is cutting the grass. He does it Friday afternoons. He puts Alex down for his nap, then he and Andrew get out their mowers. Andrew's is just a plastic toy, but he mows in earnest. When his dad mows diagonally, Andrew mows diagonally; when his dad mows cross-wise, Andrew mows cross-wise. "Andy gets excited -- he reminds me it's time to mow," says
Todd
.