Martinsville High School
Class Of 1989
In Memory
Lisa Greeson (Hickman)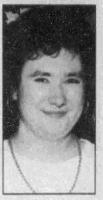 Lisa Ann Hickman, 40, Martinsville, passed from this life on May 18th, 2011 at 8:21 pm at the Community South Hospital in Indianapolis.
She was born February 26th, 1971 to William Eugene Greeson of Indianapolis and Teresa June (Reed) Greeson of Morgantown.
Mrs. Hickman graduated from Martinsville High School with the class of 1989 and recently graduated from Med Tech College in Greenwood, where she received her medical assistance degree. She also previously worked for Harmon-Becker in Martinsville and she worked as a Mary Kay consultant.
She was a member of the Fairhaven Christian Church in Trafalgar.
On February 14th, 1999, she married Eric Steven Hickman; he survives, living in Martinsville. She also leaves behind two sons, Brandon Michael Hacker and James Thomas "JT" Hickman both at home. Also surviving are two brothers, Thomas Edward (Carol Ann) Gillapsy, Martinsville and Anthony Eugene "Tony" (Chance) Greeson of Kokomo, one sister, Laura Lea Smith, Morgantown, two nephews, James Lee (Dana) Gillaspy and Joshua Greeson, one niece, Amy Greeson and one great nephew, David Messiah Gillaspy.