Martinsville High School
Class Of 1989
In Memory
Dawson Atwood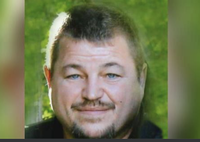 Obituary for Dawson G. Atwood
Dawson G. Atwood, 53, of Quincy, entered the gates of Heaven on Saturday, April 1, 2023. He was born in Franklin, IN, on November 26, 1969, to Darvin F. Atwood and Linda L. (Donica) Drake.

After proudly graduating from Martinsville High School with the class of 1989, Dawson secured work with Knight's Transportation as a talented trailer mechanic, later gaining employment for LINEL, before being forced to give up his career due to his debilitating heart complications. A man who was strong in his faith, he devoted his life to God and was a loyal member of the Town Center Church in Mooresville.

Reconnecting with his high school sweetheart in 2010, Angela, the pair were joyously united in marriage on July 9, 2011. A true woodsman, Dawson enjoyed camping and fishing, frequently submersing himself in the beauty of nature. He was a gifted woodworker, most recently discovering the joy of collecting trains. A sports enthusiast, his favorite teams included the NY Yankees, San Francisco 49ers, Clemson, and Notre Dame. While still in good health, he delighted in bowling with his best friends. With a passion for history, Dawson and Angela traveled regularly to Madison along with visiting military museums in North Carolina, also soaking up the Florida sun while spending time with family.

A loving and dependable soul, Dawson was known for his generosity, lending a hand to all who were in need. He was sweet and funny, and quite a jokester, often scaring Angela. He deeply loved his friends and family and will be forever missed by all who knew and loved him.

Dawson is preceded in death by his father, Darvin Franklin Atwood, and siblings, Troy, Darrin, and Daylin Atwood.

He leaves behind his wife, Angela M. (Harshbarger) Atwood of Quincy; children, Dakota Atwood, and Samantha Morrow both of Indianapolis; niece and nephew, Logan Frettinger (Caleb) of Van Buren, and Dakota Crites (Jennifer) of Milford, DE; along with his best friends, Terry Carr (Jenny) of Plainfield, Dave Lee (Valerie) of Camby, and Larry Pool (Marcy) of Monrovia.

Cremation and Funeral Arrangements have been entrusted to Light Memorial & Funeral Chapel in Monrovia. Visitation will be held on Saturday, April 8th, from 12pm until a Celebration of Life Service that will begin promptly at 2pm., with Pastor Doug Linville officiating.
https://www.lightmemorial.com/m/obituaries/Dawson-Atwood/Memories?mibextid=ykz3hl&fbclid=IwAR3IIgXeI0jH8Rv--OW_KrsO4lQCaRGCC4vx2HjIN-BsRNbzmdDYYWBNTo8